HAIDA GWAII PLEDGE
I will respect Haida Gwaii and Haida Ways of Being during my visit 
Haida Gwaii is a spectacular place full of life and culture. Everyone in Haida Territories shares a responsibility to care for the Air, Ocean, Land and People. 
WHAT TO DO BEFORE VISITING HAIDA GWAII 
Are you planning to visit Haida Gwaii? Here are 4 things to do before you arrive.
REVIEW the  Haida Gwaii Visitor Orientation

SIGN the Haida Gwaii Visitor Pledge

CONTRIBUTE to the Haida Gwaii Stewardship Fund 

LEARN MORE, arrive prepared, and tread lightly while here  
HAIDA GWAII VISITOR ORIENTATION  
HAIDA GWAII PLEDGE 
XaaydaGa Xaaynang.ngaay, yaahgudang dang ad Xaayda Gwaay guu hll k'awkaa 
Xaads Xíináangaa: Xaayda Gwáay díi .ahl stúujuus dluu díi an yahgúudángáasaang 
I will respect Haida Gwaii and Haida Ways of Being during my visit 

The Haida Nation is the rightful heir to Haida Gwaii. Haida citizens carry the inherent right to govern and steward our homeland. All people in Haida Territories hold a responsibility to protect this place for future generations. In return for your respectful actions, we will welcome you as guests to experience our Air, Ocean, Land and People. 
Haida language is represented in the order of ­Xaayda Kil (Skidegate Haida) • Xaad Kíl (Old Massett Haida)
I will honour these Haida Ways of Being by…
Yahguudang
Yahgudáng
Respect for all beings
Acknowledging Haida Title throughout Haida Gwaii, including rights 
•
Speaking kindly and listening thoughtfully 
•
Walking, driving, parking and camping only where permitted  
•
Keeping a safe distance from wildlife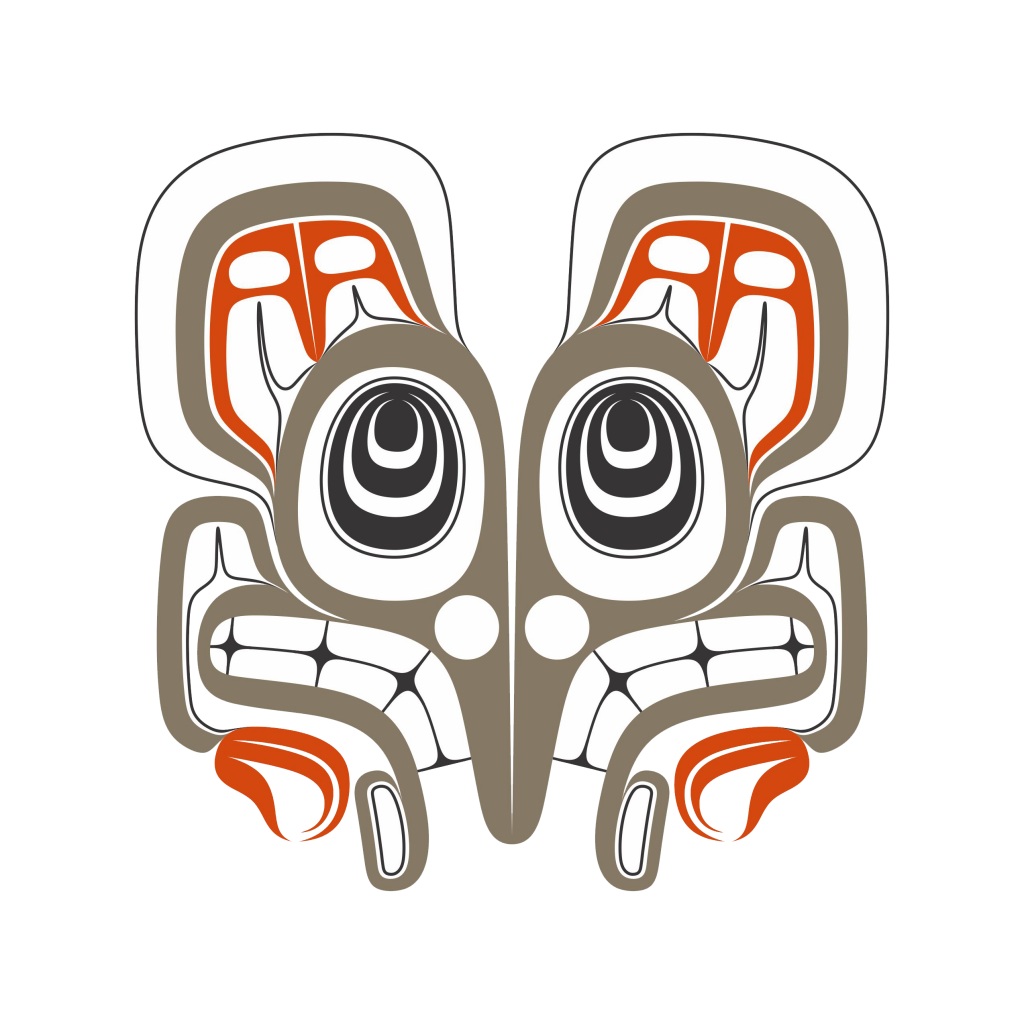 Ad kyaanang   
.Ahl kyáanáng tláagang  
Ask permission first 
Accepting that not all areas and events are open to visitors 
•
Asking permission before taking pictures of people and places 
•
Ensuring I follow all official orientations and guidelines 
Tll yahda  
Tll yahda  
Making it right 
Accepting responsibility if I do wrong, we are all humans and may make mistakes

•
Being mindful of my environmental footprint and my impacts on the earth, air and water 
•
Leaving everywhere I visit cleaner than when I arrived 
Gina 'waadluxan gud ad kwaagid  
Ginn 'wáadluwaan gud .ahl kwáagíidang
Everything depends on everything else 
Taking only what is given to me and leaving behind rocks, feathers, sand, and artifacts  
•
Respecting Haida Gwaii's bounty, I will only take what I need to feed myself today  
•
Supporting local businesses and giving back where I can 
Will you follow these Haida Ways of Being? SIGN THE HAIDA GWAII PLEDGE!

Show your respect to Haida Gwaii Air, Ocean, Land and People by signing the Pledge!  
If the 'SIGN' button doesn't work at first, scroll down a bit and then try again!
DOWNLOADABLE TOURISM ASSETS
HAIDA GWAII STEWARDSHIP FUND 
With direction from Haida citizens, the Council of the Haida Nation has created a Stewardship Fund. This is a voluntary fund to support Air, Ocean, Land and People stewardship as it relates to tourism. We welcome any contributions towards this fund and recommend 1% of your total travel costs.  
Donate securely via Square.  
You can also mail cheques to Council of the Haida Nation – Communications Program. to PO Box 98, Daajing Giids, V0T 1S0. 
For cheques, please make payee Council of the Haida Nation, and memoHaida Gwaii Stewardship Fund.
At this time, CHN cannot offer charitable tax receipts. 
REFERENCES AND RESOURCES FOR FURTHER LEARNING 
We would like to say haw'aa • haawa thank you to Palau for initiating the Palau Pledge and being a leader in responsible travel.
The Haida Gwaii Pledge is endorsed by: